Water Damage Indian Trail
911 Restoration Indian Trail
Excess moisture that is allowed to collect can create problems such as water damage over time. In addition, it only takes a little over 24 hours for secondary problems like mold and fungi to start growing and contributing towards your property damage. That's why whether you're a business or homeowner, contacting the crew at 911 Restoration of Indian Trail for your water damage problems, mold removal needs or fire damage restoration.
Within 45 minutes of your call, our water damage professionals will start with a free visual inspection for property owners only. They will determine if you indeed have mold growing, what it will take for mold removal, if water damage played a part, and determine all remediation efforts needed.
Service area map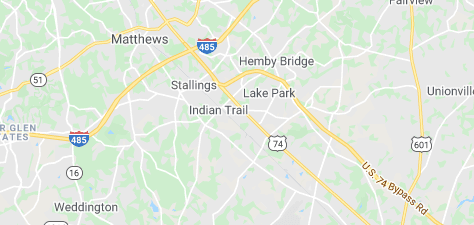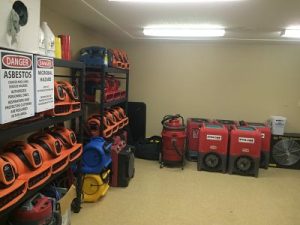 Every member of our team is IICRC certified and fully trained and equipped to handle all water damage services that include:
Free Visual Inspection for Property Owners Only
Repairs Due to Storms
Restoration from Emergency Disasters
Water Extraction
Repair of Burst Pipes
Structural Damage Inspection and Testing
Detection and Repair of Leaks
Free Insurance Consultation
Extraction, Drying, and Dehumidifying Services
Care and Understanding Through the Water Restoration Process
High Levels of Training to Give Peace of Mind
And More
Our specialists are ready to go 24/7/365 to make sure you get back to normal as quick as possible after suffering from water damage. Don't wait and give us a call promptly and we'll make sure to exceed your expectations.
Client Testimonial
Sherry M.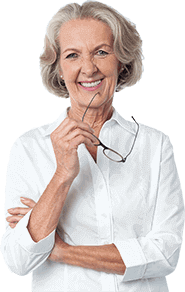 "I would give them 6 stars if I could. I had to deal with a flood in my business, an absolute nightmare for every business owner. [911 Restoration] came right away, and they are so professional and efficient. Even after everything was done they followed up and made sure everything was back to normal. A+ customer service. Thank you!"
Water Damage Restoration
Water damage restoration can be a complicated and drawn out process. However, our water damage restoration experts believe it shouldn't' be the case. That's why we strive to make the entire process as easy on you as possible. To help us deliver, we make sure that every technician is licensed, bonded, and insured so that you know that every aspect of fixing your water damage is taken care of from start to finish.
You can count on the latest techniques and equipment to be used in our water restoration efforts. In addition, we will walk you through every step of the process so you know exactly what to expect and can relax knowing your property will be restored quickly and correctly.
Due to our many years in this industry, we know that water damage can breed mold. That's why as a part of the water restoration process we make sure to repair and fix any flooding or leak sources so that recurring mold is not a possibility. Remember, a prompt and rapid response minimizes the impact that water damage can bring to your property and reduces your risk of needing mold removal.
Once you are aware of water damage on your property, call the the team at 911 Restoration of Indian Trail so our water damage restoration unit can begin water remediation immediately.
Mold Removal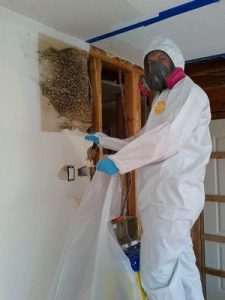 Your safety is our top concern, which is why we offer same day services for your mold removal. No matter if the source of water is from a small leak or flooding, our mold removal technicians will remove all water sources contributing to the mold so that the mold and fungi can be removed completely. Our team knows that if left unattended too long, that mold spores can develop into a full mold infestation thereby compromising your property as well as your health.
With us, you get professionals who have been trained in mold removal for all fungi, mildew, and mold types. A mold infestation becomes more serious the longer it's allowed to exist. That's why the crew don't waste a second in their efforts in water removal along with drying and mold extraction.
Mold only takes 24 hours to start growing and infesting the rest of your property. That's why our mold removal experts are ready to begin your mold removal within 45 minutes of your call. Call our staff as soon as you suspect mold so your home and health stays safe.
Sewage Cleanup
Damage from sewage spills and overflow damages your home and can also affect your health severely because of the contaminants that are found in sewage.
The most common reason for toilet overflow is due to the buildup of pressure in the sewer system. Once the pressure hits a certain point, that's when overflow occurs. The key to handling this when it occurs is to get the sewage cleanup crew at 911 Restoration of Indian Trail out to clean the mess.
Due to the risk of contamination, we use hazmat gear to help us work on your sewage cleanup safely. The process of cleanup involves using advanced water removal equipment to dry everything completely, and then disinfect the area with industrial grade detergents.
After clearing, our sewage cleanup professionals begin restoration procedures to remove all odors and repair any damage incurred. Call the sewage cleanup experts at 911 Restoration of Indian Trail today!
Fire Damage Restoration
Fire damage is one of the most destructive sources of property damage combined with an immediate risk to the safety and wellbeing of the occupants within the property. The biggest problem with fire is the damage that exists after the fire has been put out. That's why the fire damage restoration process is a comprehensive endeavor.
However, the fire damage restoration team at 911 Restoration of Indian Trail have your recovery well in hand. We understand the full impact that fire has on a property, which is why we know to address all problems ranging from ash and soot to structural damage and water damage that results from the efforts in putting out the fire.
Any water used to put out the fire will be completely removed. In addition, our high powered vacuums and blowers will ensure that all ash and soot is removed from your walls and vents.
Our services even go so far as to make sure the odor of smoke is removed as well through our cleaning process as well as damage restoration. Call our fire damage restoration team in Indian Trail today to begin your fire damage restoration.
Disaster Restoration
Our approach with disaster restoration is to make sure we're there for you while providing the most trained professionals to help with your damage repair needs. Besides a complete restoration, our goal is to make that restoration as smooth and calm as possible. We accomplish that by making sure that our staff is completely accessible to our property owners throughout the whole process.
It's a fact that you'll have questions and that you'll want answers as soon as possible. The Indian Trail team understands that which is why they offer complete transparency in answering all of your questions. By having a high focus on our customer service, we can ensure a painless disaster restoration process for the homeowner whether it's mold removal or fire damage restoration.
As soon as we are brought in, you get to relax and not worry about having to do anything. Everything from the disaster restoration to filing insurance claims on your behalf will be taken care of by our crew. With us, a fresh start in your grasp so call our disaster restoration team at 911 Restoration of Indian Trail today!
Commercial Property Damage Restoration
Commercial properties offer challenges that go beyond the scope of a traditional residential property. Because of this, it can be difficult to stay on top of everything. This is especially true when you don't live on the property or are unable to visit it regularly.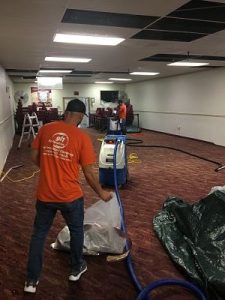 Water damage and mold can develop without the ability to be discovered in a short amount of time. Due to the potential of long periods of time passing, the very real risk of extensive structural damage is quite high. The extent of the damage can influence how much your water damage restoration, mold removal, or fire damage restoration can cost. This directly causes your insurance company to need to become involved so that you can get financial coverage.
Our team is well versed with all types of providers so we can assist you in filing your insurance claim. By helping you get the financial aid you need, we can make sure we get your business back up and running quickly.
No matter what type of commercial property you own, you can count on our commercial restoration crew to get your business back on its feet fast. Call today so your business can get a fresh start.