Commercial Property Damage Indian Trail
When your commercial property has been affected by property damage, whether it's flooding or a mold infestation, you can count on the commercial restoration experts at 911 Restoration of Indian Trail to be there for you. We guarantee to get you back to business as usual in no time.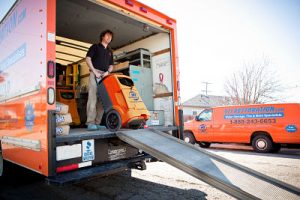 We understand that one of the most common forms of property is water damage and that it can strike at any time. That's why our commercial restoration team is ready to roll 24/7/365 so that when disaster strikes you can relax knowing we're there 45 minutes after your call.
Every one of our commercial restoration techs are IICRC certified and fully qualified to offer same day services to cover a range of commercial property damage that includes:
Mold and other fungi
Odor from mold and mildew
Leaks from ceilings and roofs
Ruptured water heaters
Malfunctioning equipment
Broken plumbing
Ruptured Hoses
Pipe Burst
Black Water
Building Flooding
The biggest mistake owners make is not responding fast enough to mitigate the impact of water damage among other forms of property damage. That's why the second you notice or suspect possible water damage, get on the phone and call the commercial restoration professionals at 911 Restoration who will start with free visual inspection for property owners only before beginning the restoration.
Handling Your Commercial Water Extraction and More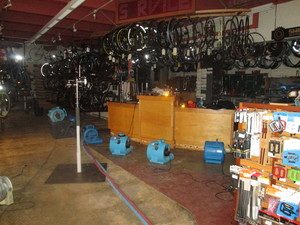 After the visual inspection, it's time for the restoration experts to begin. Our team uses only the most advanced water extraction techniques and equipment so that your business is dry as a desert quickly. The sooner the water extraction happens, the less risk of long-term damage occurring on your property.
Besides water extraction, we make sure that every other aspect of your commercial restoration is done correctly regardless of the size of your property damage such making sure your property is fully dehumidified so as to prevent mold growth. Your safety is our top priority, which is why strive to instill that safe feeling by handling every concern that comes up.
While every technician is licensed, bonded, and insured we go a step further by training our team further than what's required so we can truly mean it when we say that we have your commercial restoration taken care of and it will be like the damage never happened by the time we are done.
Making sure your building is safe and functional is what we want to accomplish. Call our commercial restoration specialists today so you can get your business back to full operation quickly.
Going Beyond Water Damage
Yes, water damage is the most common form of property damage, but it's not the only kind that owners face in their business. That's why our team offers a full range of commercial restoration services that includes:
Water damage restoration
Sewage cleanup
Mold removal
Fire and smoke damage
Disaster restoration
Our team is fully trained and equipped to handle your commercial restoration regardless of the type of property damage you face. In fact, the different types of damage is why water damage is so common and why we focus on it to a degree. Even fire damage results in water damage due to water being the main component used in putting the fire out.
In addition to our expertise, we make sure to offer a variety of benefits so our clients feel truly taken care of from start to finish. Some of the benefits available are:
Free visual inspection for property owners only
Evaluation of structural damage
Insurance consultation
100% water extraction, drying, and dehumidification
And much more!
Our customer also benefit from our full assessment of your commercial restoration project allowing us to develop and execute a plan that ensures our restoration efforts are unimpeded while still allowing your commercial property to remain open so business keeps happening in the meantime.
Another part of our efforts to be full service is that we also help our property owners through the insurance process which includes walking them through their insurance policy. By doing so, we make sure you get maximum coverage that you deserve in the face of disaster.
Our experts will also file the claim for you so you can relax knowing that the claim is submitted correctly and everything is in motion towards getting you back up and running.
If you need commercial restoration services then call the crew at 911 Restoration of Indian Trail today and we will make sure your business gets the fresh start it deserves.