Fire Damage Restoration Indian Trail
The team at 911 Restoration of Indian Trail is tireless in their pursuit of supporting the community when property damage occurs regardless of the type of disaster. This is especially true though in the events of fire and smoke damage.
Whenever a fire has been experienced to can count on us to:
Be available 24/7/365
Same-day service
Response time within 45 minutes
Free damage estimate
Licensed, bonded, and insured team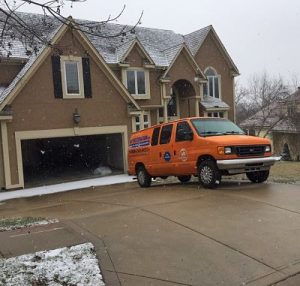 We believe in a fresh start after a fire for everyone. That's why our team of technicians goes above and beyond in their efforts to take care of the clients. We understand that a fire and the aftermath can be chaotic, but we work to make sure the restoration process is as smooth and painless as possible for you and your family.
Don't wait to get a company that will be there for you every step of the way. Call today to get the our fire restoration experts out to get started today and get you back to life as you knew it so you can have the fresh start that you deserve.
Handling Fire Emergencies Safely
With any disaster, but especially fire damage the speed and efficiency of your reaction determines the final impact once the damage is contained. If you are able to, you can remove the source of the fire to let the fire burn itself out faster. An example would be turning off a burner. Just make sure you don't risk your safety doing so.
Your safety is the number one concern. Always remember that different fires have different methods of being stopped. For example, a grease fire would only grow if you tried to put it out with just water. That's why we recommend evacuating your house and calling the fire department immediately. They are trained to fight the fire itself and in a proper manner. Plus, this will negate the immediate danger so that fire restoration can get started. Just keep in mind that water damage will be added to the fire damage
To ensure the best chances at safety, you and your family should practice evacuation procedures and have emergency kits so that you are fully prepared in the event of a fire. Remember that belongings can be replaced, but lives cannot.
Once you have secured your safety and the fire department is at work, call 911 Restoration of Indian Trail as fast as possible so that you can get back on your feet as quick as possible. Your fire restoration experts stand ready 24/7/365.
Handling Your Fire Restoration After a Fire
After the fire has been put out, it's time to go immediately into fire restoration. Fire restoration is a comprehensive process that entails:
Ash cleanup
Elimination of burnt possessions
Restoration of charred flooring
Smoke stain removal
Fire Damage Restoration restoration
Complete comprehensive home repair
Removal of tar residue
Deodorization and smoke removal
And more
Our fire restoration professionals will perform all the services listed should it be determined to be needed once the inspection has occurred.
The largest problem with fire is the excess water damage and smoke stains left behind. Water is a major component used in the fight to put out the fire. However, the water damage left behind has to get removed because besides the damage from the fire, you face the complications of possible mold growth should the water damage not be remediated quickly.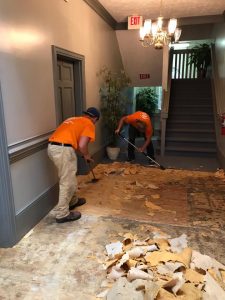 Going through that kind of experience shouldn't happen, which is why our team at 911 Restoration of Indian Trail will be there from start to finish to handle every aspect of your restoration needs so you can relax and breathe easier knowing that everything from the water damage to the smoke stains are taken care of.
Once the water damage is addressed. Smoke removal is the next important part of the overall restoration process. It fills the porous materials in your home like furniture or drywall, which is basic cleaning doesn't work. That's why we have specialized training and equipment designed to lift and remove all of the smoke and ash that settles post fire.
Finally, fire is covered by your insurance. Our IICRC certified technicians are fully trained to walk through and handle the insurance claim process for you so you can relax knowing that everything will be replaced and that your fire restoration is covered. We will help you log an inventory of what you lost, and even file your claim for you if you choose to have us do so for you.
We promise to get your home back on its feet fast. Our team is all-inclusive, which means that we can handle every step of the process from fire and water damage to handling your insurance claim with no waiting on your part. Call our fire restoration team at 911 Restoration of Indian Trail today to begin work immediately.