Mold Removal Indian Trail
The owner, Tim Crane, of 911 Restoration of Indian Trail has said before that "mold can really slow a homeowner down. From the nauseating headaches to the worsening allergy symptoms it brings, mold can cause major impediment to any homeowner."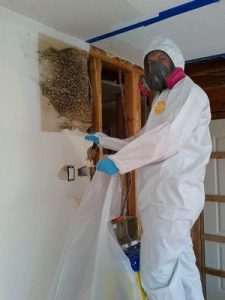 That's why as part of his mission, he offers only the best in mold removal solutions to the local area 24/7/365 through his team of expert technicians. He and his crew bring many years of experience in the fight against mold infestations. When it comes to mold removal, nothing but a fresh start will do for the home.
A fresh start is the guarantee that customers can count on while knowing that every problem that comes up during the mold removal process will be taken care of. Our team is locally owned and operated so we know exactly what you might face because we face it just like you do.
Should you find yourself in need of mold removal services, call immediately the technicians at 911 Restoration of Indian Trail who will be there within 45 minutes of your call.
Mold Comes From Water Damage
In as little as 24 hours after water damage has occurred, fungi and mold can grow. In order for mold spores to change from inactive to a full colony is humidity and dead organic material. As a result, your home can be a perfect breeding ground for mold damage without prompt water damage restoration.
The worst part is that mold doesn't need excessive water damage to grow. Even something as benign as a leak in a pipe from a basement can allow water to accumulate where it doesn't belong and start breeding mold in your home.
This is why homeowners are advised to stay vigilant in their lookout for unwanted water. In addition to the obvious places to check for water damage, make sure you investigate the uncommon areas that most homeowners don't think of so you don't need water damage restoration.
The most common uncommon sources of water damage include:
Crawlspaces: Usually located next to your home's foundation, this is an area that most people don't investigate so to stay ahead, make sure you're one of the ones who do.
Attics: The first room to suffer from any leaks through the roof. Changing seasons means greater chances for humidity levels to rise as the temperature rises.
Heating and cooling ducts: Condensation and other sources can create excess moisture. This is especially true if seals are not properly secured so regular inspection can save you.
Sight alone is not always enough to detect the levels of moisture present when the water damage is subtle. It is suggested that you use equipment like moisture detectors to help you determine if water damage is present. Failing that, feel free to call the water damage restoration experts at 911 Restoration who will be glad to provide a visual inspection along with an estimate should water damage be detected.
Should you find mold during your inspection, don't wait. Call the mold removal experts at 911 Restoration of Indian Trail today! They are specially trained to handle all of your mold remediation needs.
Your Friendly Neighborhood Mold Experts
The mold removal process is a comprehensive full process when done right. The first step is our visual inspection to determine all sources of mold that exist on your property. We look for common signs like pungent odors and crumbling drywall among other signs. After the sources have been identified, it's time for our mold removal technicians to get to work.
Backed by IICRC certification, our professionals are your complete solution to your mold remediation. That's why when beginning we line the afflicted area with antibacterial plastic so that the mold spores are contained. Then we can start the cleaning and removal of the mold using our state of the art equipment.
Mold creates stale and unhealthy air, so we make sure the old air is pumped out while bringing fresh air in with our HVAC systems so that everyone in the home can breathe easy again. Our team takes it a step further by making sure to fix any leaks or humidity causes so that the mold doesn't have a chance to return.
Mold also can affect a person's health, which is why we take our mold remediation services a step further by offering mold testing to determine toxicity levels. This way, you are fully informed on the status of your health from day one.
Make sure that when mold is a concern that you get the mold remediation experts at 911 Restoration of Indian Trail out there. We guarantee to arrive within 45 minutes of your call ready to begin.