Water Damage Restoration Indian Trail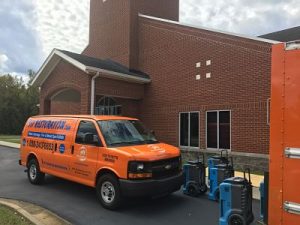 Your water damage restoration is a complex job best delivered by 911 Restoration of Indian Trail occurring as soon as possible to minimize the impact that occurs from flooding and other sources of water damage. To help us be there for you we guarantee our arrival within 45 minutes of your call to begin work on your water damage restoration.
Backed by our experienced and IICRC certified technicians, you can be sure that only the fastest and most effective techniques and methods will be used to make your property a home again after water damage strikes.
Our equipment includes the latest in water extraction and we even utilize infrared cameras that allow our team to find all damp spots arising from leaks, which means that not only is your home going to be restored, but your emergency restoration will be done right the first time.
Regardless of the source of your water damage whether it's a storm or a ruptured washer hose in your basement, you can relax knowing we have you covered.
As soon as you're aware of water damage, make sure to call our water damage restoration experts at 911 Restoration of Indian Trail so our crew can get you back to normal life quickly with same day service.
Water Damage Protection Before it Happens
While it's true that water damage can strike out of nowhere, there are things homeowners can do to minimize the likelihood of needing water damage restoration services as listed below:
Inspect and Repair Your Roof. This includes cleaning your gutters and downspouts
Inspect your appliances to make sure they are removed from potential rising water sources as well making sure all water hoses are in good repair.
Yearly inspections for your plumbing to detect leaks before they become a problem
Call 911 Restoration when water damage is detected
These simple steps as well others you might come up with are steps that are easy to do and go a long way towards keeping your home protected against water damage from floods and other sources. With the immediate as well as potential long term dangers of water damage it is crucial that you rely on the water damage restoration experts at 911 Restoration of Indian Trail to get the job done.
No matter the water damage restoration need, we have you covered 24/7/365. We offer the best in water extraction, mold removal, and even a full home restoration should excessive damage be incurred.
Above all, our customers come first. While we are getting the job done, we are also walking you through the restoration process so you have full understanding of what's happening from start to finish. Don't hesitate to inquire about your remodeling options, and we are happy to assist you with all insurance claims.
Don't wait to call your water damage restoration technicians at 911 Restoration of Indian Trail for the fastest and most professional restoration service around.
After Your Water Damage Restoration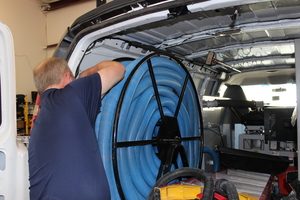 Water only has to dampen or soak an area for 24 hours for long reaching effects like mold growth to take hold in your home. That's why the mold removal experts at 911 Restoration of Indian Trail are your best bet since we use the latest techniques and equipment for your mold removal.
Chances are that you will have to go through your insurance to cover the financial impact of your water damage and mold removal. That's why we work with you on logging your inventory as well as filing the insurance claim on your behalf should you choose that option.
Led by Tim Crane and his family, 911 Restoration of Indian Trail supports the local area with unbeatable water remediation. Having a home and family himself, he knows exactly how important safety and health is important in your home.
After a water emergency struck a local family, Tim and his crew were on the scene. Immediately, they went to work on removing the water and inspecting the property. They detected mold had started to grow in the time for the water damage to be discovered. The family had reported having breathing problems for a week, so Tim made sure his mold removal crew also conducted mold testing to make absolutely sure there would be no lingering health issues once the mold removal was completed.
Ultimately, between the water damage restoration and the mold removal the situation was complex, but made simple through the unparalleled customer service and expertise provided by the team at 911 Restoration of Indian Trail.
Make sure when the need strikes to call our water damage restoration technicians to deliver a fresh start for your home by calling the team at 911 Restoration today.