Sewage Cleanup Indian Trail
Helping members of the community get a fresh start after disaster hits is the main goal for the team at 911 Restoration of Indian Trail. Our owner, Tim Crane, says, "I live for bringing people peace of mind when they need it most. I've been doing this a long time, and learned that nothing is more important than family. Sewage backup is dangerous if handled incorrectly. That's why I'm here to help make sure that people and their homes are protected."
That's why the cleanup and sanitation team needs to be ready to go so they can deliver their fresh start promise by:
Being available 24/7/365
Arriving within 45 minutes
Delivering faster cleanup
Providing same day service.
When it comes to your safety and health, we don't cut corners. That's why we coat the entire area before we even start removing the waste and do so again after the waste is removed. By doing this, we eliminate bad odors and also decimate any mold spores that could have grown. In addition, we also provide water damage restoration services while we're at it since water is a part of the sewage backup to begin with.
If you find yourself in need of sewage cleanup or water damage restoration, then don't wait to give us a call at 911 Restoration of Indian Trail so we can begin the sewage cleanup immediately.
Protecting Yourself from Sewage Matters
Sewage cleanup is more common than any homeowner would like to think. After all, what is contaminating the property is nothing but waste. The simplest way this can become necessary is toilet overflows. The toilet overflows because of sewage backup, which can happen quickly and catch a homeowner off guard. Fortunately, there are ways to be prepared so that the impact is minimized.
Our first bit of advice is that when a backup has occurred, turn off the water to your house. Doing this can save time and money when it comes time for sewage cleanup to begin. The water contributes towards sewage buildup and also provides secondary damage in the form of water damage. This means you will also need water damage restoration in addition to sewage cleanup. Keep in mind that water shut off valves will vary in location so take the time to track it down so you can respond quickly when emergencies come up.
Once water is no longer functioning in the home, your next step is to try to dam up the sewage if possible so that way it is contained to one area instead of spreading. Make sure you don't touch the sewage itself in the process. Minimizing the area of contamination will also help with lowering the need for water damage restoration.
Sewage is known as black water because it's raw waste. This is a category 3 substance. Don't ever run the risk of coming into contact with it. Call the sewage cleanup professionals at 911 Restoration of Indian Trail so they can take over and also handle water damage restoration needs while they work on your sewage cleanup.
Sewage Cleanup Certified and Comprehensive
The last thing a homeowner needs when sewage backup occurs is to hire an unqualified technician that will only make the problem worse. You deserve and need the best for your sewage cleanup so that you don't get extra problems like hiring another crew for water damage restoration. That's why the only techs you should use are the IICRC certified kind like the crew at 911 Restoration.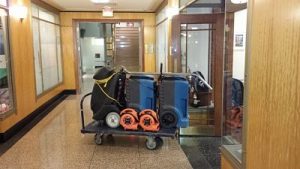 What makes the IICRC certification so important is that it's offered by the Institute of Inspection, Cleaning, Restoration and Certification. They are internationally backed with the aim of providing field techs with the knowledge needed to provide all restoration services needed.
Besides the certification, our team also trains beyond what's required so that hidden damage is a non factor. The last thing you need is water damage restoration services and mold remediation services on top of your sewage cleanup needs.
We combine our availability with honed skill and the latest in equipment and technology to provide a superior experience from start to finish. We have developed many tricks that only come from experience such as the covering with antibacterial sprays twice when dealing with sewage backup.
We guarantee that your home will be restored to better than before. It's just a part of our fresh start approach that we live by. Don't wait. Call the sewage cleanup crew at 911 Restoration today.